65+ Best Logo Design Collection in Jeddah, Saudi Arabia
Jeddah – The Gateway to Sacred Place for Muslims
When it comes to Jeddah, it captures the eyes of all others due to its amazing scenery and scintillating attractions. Jeddah is considered as the doorway to the sacred place for Muslims in the world. Hundreds of thousands of Muslims travel to Jeddah from different parts of the world in order to perform Hajj and Umrah in the House of Allah. That is why this city has got a special importance for the entire Muslims community across the globe.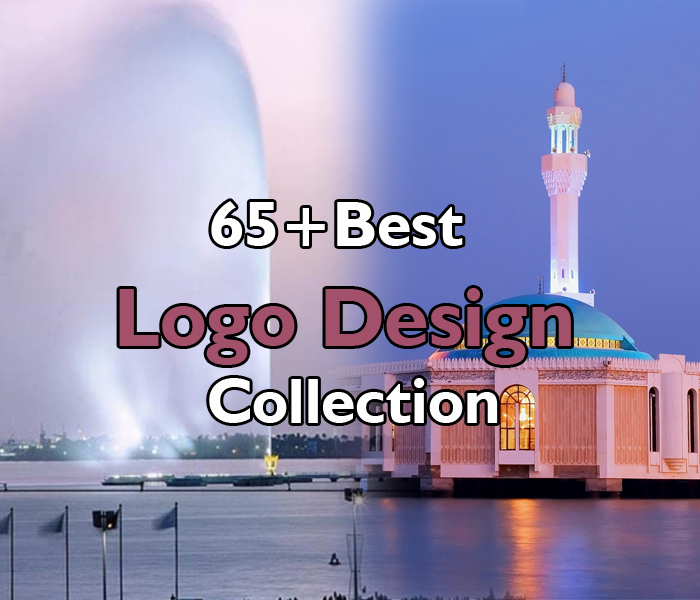 Jeddah Is the Place to Be
Jeddah (جدة) offers plenty of exciting opportunities for sightseers. So if you are planning to visit in Saudi Arabia this year, you should never miss a chance to explore the cultural heritage of the country as this holy land of Prophets is blessed with manifold resources. Jeddah is very famous because of its wonderful shopping streets, open air sculptures, historic mosques, shopping malls, beauty salons, souks, art collections, museums and luxury resort hotels. It is also very popular due to its Region Museum of Archaeology and Ethnography. Therefore, staying in Jeddah should be your number one priority as it offers a beautiful picture for tourists. It offers affordable and comfortable accommodations for visitors.
See Also : 40+ Best Corporate Identity Design for Inspiration in Saudi Arabia
Jeddah Is a Famous Business Hub
The ultimate objective of any business is to grow fast. If you want to consistently grow your business, it is always recommended for you to advertise your own business products or services Jeddah. A product or service without a logo and brand name will give you no business benefit at all. Jeddah is a well-known city in the world due to its various business activities. This city has almost everything to offer for businessmen, investors, stakeholders and corporate owners.
Many leading construction companies are performing their business functions in Jeddah these days. In addition, you can find many fine-looking jewelry shops, shopping malls, beauty salons, cosmetic companies, pharmaceutical companies and much more. All these companies require logo design services for their business promotion in Saudi Arabia. Therefore it is better for you to invest some money in Jeddah Web Design Company (Prolines.sa) to help grow your business.
See Also : 40+ Elegant CD Cover Designs for Inspiration in Saudi Arabia
Create a Unique Identity with Logos in Jeddah
Branding a product and service is the most important objective of any business. Are you running a business in Jeddah or outside the city? If so, you do not need to worry because you can quickly get a unique identity with "Jeddah Logo Design Company"(شركة تصميم الشعار بجدة). There are some important steps before you go to create a logo design of your company.
One of the most important steps in any business branding is the creation of a logo. Ideally speaking, logos are graphic representations or signs of a company name. In fact, they are a trademark of any company. They can be used your instant business recognition in Saudi Arabia. A logo derives its actual meaning from symbolism which helps to grab the attention of others and displays your product. A fine looking logo design (تصميم شعار) is a concept of your company. In other words, a logo defines the soul of your business.
See Also : 50+ Best Calendar Designs for Inspiration in Saudi Arabia
Best Jeddah Logo Design Collection for Your Inspiration
Are you seeking a "professional logo design service in Jeddah" to promote your company? Are you finding the best collection of unique and colorful logo designs in Jeddah for business promotion? With Prolines.sa, all your dreams will be fulfilled regarding your business marketing within the shortest time span. The best web design company in Jeddah is offering the best collection of logo designs for your inspiration, including Arabic calligraphy logos, construction company logos, corporate identity logos, Facebook cover designs, business card designs, letterheads, car logos, fashion and many other logo designs.
See Also : 40+ Unique Letterhead Designs for Inspiration in Saudi Arabia
These logos are symbolic, illustrious and famous everywhere around in Jeddah, Saudi Arabia. You can get them designed with your best web design company at a very affordable price. These logos are useful for small businesses in Saudi Arabia in particular. So if you are a serious minded and you want to advertise your business in KSA in a more proper way, it is better for you to invest money in logo designing!
Free Quotation/عرض مجاني
We are excited that you decided to contact us for Website Design or Graphic Design Work.
.نحن سعداء أن كنت قد قررت الاتصال بنا للحصول على تصميم الموقع أو التصميم الجرافيكي العمل
Checking...
Ouch! There was a server error.
Retry »
Sending message...