TSCO – Popular Construction Company in Saudi Arabia
Construction Boom in Kingdom of Saudi Arabia
The Kingdom of Saudi Arabia is well-known due to its widespread construction industry. There are a wide variety of amazing building structures in the Kingdom of Saudi Arabia. There are plenty of exciting things in the famous Kingdom such as corporate buildings, cement factories, chemical industries, big hotels, lavish restaurants, schools, colleges, universities, gymnasiums, sports complex, shopping malls, hospitals and much more. Thus, Kingdom of Saudi Arabia is known for its booming construction industry worldwide.
Why TSCO Is the Best Choice for All?
Have you heard about Tiba Square Contracting EST (TSCO)? If you are unaware of it, then please let us tell you that TSCO is a professional and reliable construction company based in the Kingdom of Saudi Arabia that has been delivering the best solutions to the various governmental organizations, private industries, domestic consumers and other companies in the field of construction for many years. It has a team of highly professional engineers, architectures and technicians who will propose you the best construction plan within your budget.
If you are willing to invest your money in any particular kind of construction project in the historic Kingdom, don't waste your precious time and get in touch with TSCO as early as possible because TSCO is truly aimed to give you the best construction plan and strives to make it easy for you. The company utilizes all the best possible resources and employs state-of-the-art techniques for making your projects as truly successful in the Kingdom of Saudi Arabia.
Services
At the moment, TSCO is offering a wider range of services for governmental organizations, private industries and domestic consumers in the Kingdom of Saudi Arabia. These services are given below step-by-step:
The electrical works
Generation and distribution of power and lighting works
General contractor for corporate building
Building repair, demolition and renovation services
Business extensions electricity
TSCO Branding – Saudi Arabia Construction company
Proilnes design TSCO the short form of  "Tiba Square Contracting Company" Branding.
Stationary Items
Logo Design
Letterhead
Business Card
Envelops 2 Size
Documents Folder
Invoices
Brand indoor Signs
Seal
Flyer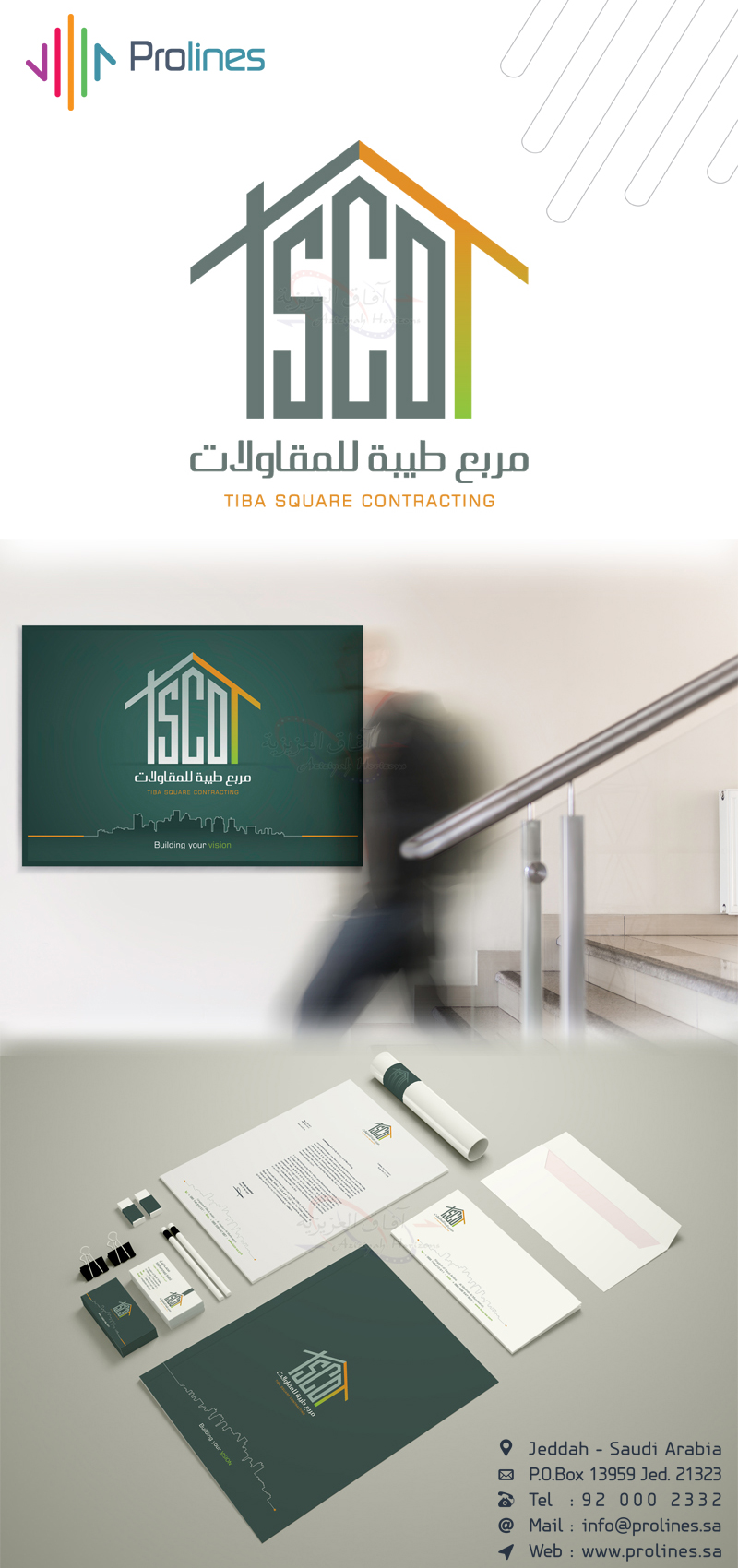 if you need brand then contact us info@prolines.sa or call us : 0560 22 88 66
Free Quotation/عرض مجاني
We are excited that you decided to contact us for Website Design or Graphic Design Work.
.نحن سعداء أن كنت قد قررت الاتصال بنا للحصول على تصميم الموقع أو التصميم الجرافيكي العمل
Checking...
Ouch! There was a server error.
Retry »
Sending message...